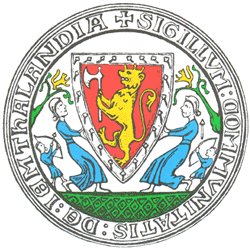 The 13th century seal of Jamtland

The seal, from the 13th century, shows a shield with the Norwegian lion. (note that the shield is uncrowned)
On each side, hunters with longbows are seen, aiming their arrows at squirrels, whos winter fur was used to pay the taxes to the norwegian crown. The seal was used from 1274 to 1570 when the Danish king abolished the seal after the Swedish occupation of Jamtland 1564-70. Documents including the seal are preserved from 1300 to 1561.
The latin text reads:
The seal of the community of Jamtaland
Note: The colours have been added in present time using a colour version of the seal appearing in a dutch 17th century map.

Source: Second volume de la Geographie Blavianen contenant le III,IV,V,VI & VII livre de l'Europe. Amsterdam, Jean Blaue, MDCLXVII. (p.23f)

© Bo Oscarsson
16.1.2002

Link to the second seal sigille

Link to the third seal sigille

Back to English index

Read about the Jamtlandic seal in jamska or swedish

Also check this site about the Jamtland flag and seal