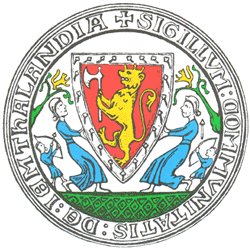 Sigille at jamtom
Jamtlands medeltida sigill
The 13th century seal of Jamtland
JAMSKA:
Sigille at jamtom som mæ fekk ta a kong Magnus Lagaböter ikring år 1274.
Beskriving: tvo stor jamta håll opp norske sköldn mæ e lejon på. Tvo minner jamta skjut mæ pilbagom på ikorran som sitt på kvistom. Jamtan gatt betala skattn at konga mæ gråskinnom. De e vinterpälsn at ikorrom. På den tin sigille komme te fanns int krute, ta di skjut dom mæ pilbagom.

SVENSKA:
Sigillet, från 1200-talet, visar en sköld med det norska lejonet. (notera att skölden är okrönt)
På varje sida syns jägare med pilbågar som siktar på ekorrar, vars vinterpäls (gråskinn) användes för att betala skatten till den norska kronan. Sigillet användes från 1274 till 1570, då danske kungen fråntog jamtarna sigillet efter den svenska ockupationen av Jamtland 1564-70. Handlingar med sigillavtryck finns bevarade från 1303 till 1561.

ENGLISH:
The seal, from the 13th century, shows a shield with the norwegian lion. (note that the shield is uncrowned)
On each side, hunters with longbows are seen, aiming their arrows at squirrels, whos winter fur was used to pay the taxes to the norwegian crown. The seal was used from 1274 to 1570 when the danish king abolished the seal after the swedish occupation of Jamtland 1564-70. Documents including the seal are preserved from 1303 to 1561.
Latin-teksta betyr:
Sigille at allmänheitn i Jamtaland

Den latinska texten säger:
Sigillet för allmogen i Jamtaland

The latin text reads:
The seal of the community of Jamtaland
---
Ekerwald:
Jämtlands medeltidssigill visar
ett yxbeväpnat upprättstående lejon - lejon betyder i sådana sammanhang "nation".
---
Lägg mærse te: Færgjan ha komme te på seinar ti. Oppgiftan om færgjan e tegen frå e hollänsk e kaart frå 1600-talan.

Not: Färgerna har lagts till i modern tid med utgångspunkt från en färglagd version av sigillet på en holländsk karta från 1600-talet

Note: The colours have been added in present time using a colour version of the seal appearing in a Dutch 17th century map.

Källa: Second volume de la Geographie Blavianen contenant le III,IV,V,VI & VII livre de l'Europe. Amsterdam, Jean Blaue, MDCLXVII. (p.23f)

>

Anner sigille at jamtom 1575

Tredje sigille at jamtom 1635

Tebaker, Tillbaka,
Back [Home page in English]